Virginia Prolife Day Registration
All information submitted will be kept confidential by Defending Life Day and March for Life.
Meet Your Lawmakers in the Morning. March for Life in the Afternoon.
Don't know your district numbers? Find them here.
Find Your Representatives and Write Down Your District Numbers
Use the green button below to find your State Senator and State Delegate.
Enter your home address in the "Who's My Legislator?" Search Box.
Write down the numbers listed for your State Delegate and State Senator.
Example Picture Only - Please Use Your Own Home Address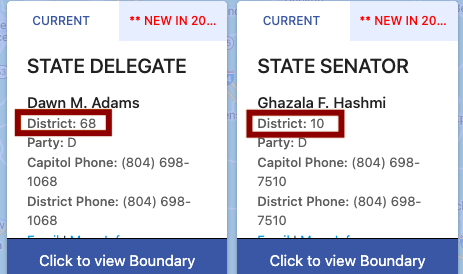 Registration will be added closer to the 2024 event!
Virginia Pro-life Day Schedule
7:30am       Doors Open at Greater Richmond Convention Center
8:30am      Gather in constituent groups
9:15am       Short walk to General Assembly Offices (Shuttle available with prior registration for those unable to walk.)
10:00am     Senate Meetings
10:30am     Delegate Meetings
12:00pm     March for Life Rally (Speaker announcements forthcoming!)
1:00pm        Virginia March for Life
2:00pm        Prayer and Praise Rally